About Me
I have met so many amazing people through the clients I have worked with and can't wait to see what the future holds!
Throughout my life, I never really had much of a plan. I was the "take every day as it comes" type of person. In high school, when it came time for me to pick a career path, I picked something I was passionate about and went for it. I went to school for fashion design and loved every minute of it. It was fast-paced, competitive, and extremely intense! My hard work and creativity led me to an internship at Roots Canada in the Women's Athletics Department. What an incredible experience it was! I learned how to multitask, never say no, and to think outside of the box! Next, I worked in a Men's clothing store as a formalwear manager and thrived working with customers and helping people customize outfits for their most important life events! There's no better feeling than knowing that I exceeded their expectations.
This is where I really learned that I am a people pleaser.
Originally from Pickering, I moved to Windsor with 2 weeks' notice; After my fiancé became a Paramedic here. Neither of us had been to Windsor before, and now we never want to leave!
When we first moved here, I was fortunate enough to get a transfer from the retail store I was working at in Pickering, to the one in Windsor. I soon realized there was little room for growth, and I was no longer happy with this career path.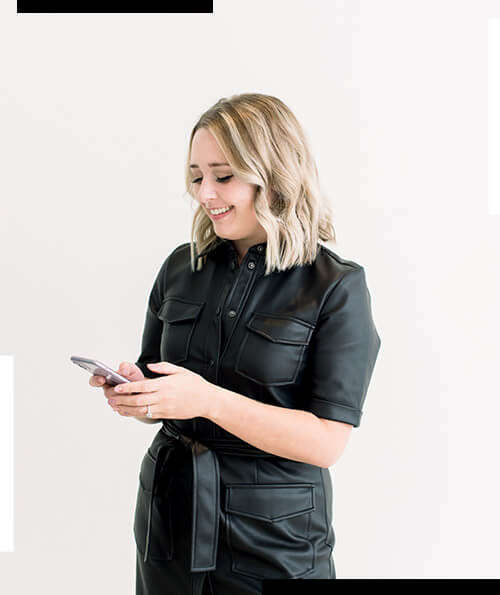 I was toying with the idea of going into real estate but really didn't know how to make the leap, then I met Joe. Well, the rest is history. After working as the team assistant for a few months I realized that I needed to pursue this new path. The team was nothing but encouraging throughout the entire journey. Every day I think about how lucky I am to have stumbled upon the most amazing opportunity and ultimately my new family at the Joe Conlon Real Estate Team.

Joe sold our home in 7 hours… when we put our best foot forward, you were able to show our house and speak well of all the things we did over the years to make it a happy place to be. Its nice that you genuinely saw all the labor of love and you helped others see it too!

Had the pleasure of working with Jill. I was in a rush to list and sell, to accommodate my purchase of a new home, and she was extraordinary! She was completely understanding of my needs and bent over backwards to be there every step of the way.. not only was I super impressed, but my parents will be recommending her to any future home sellers/buyers. Your team is blessed with having Jill be a part of it, truly an asset to your company as well… I love her and I'm forever grateful for all the dedication and work she did for me.

Joe's team helped me find my first house and made the process as simple and efficient as possible. He was very professional and knowledgeable, I'm very glad we chose him!

My son and Daughter-in-law highly recommended we work with Joe. He was everything we expected and more. Our house sold for more than we had hoped, in less than a week. Everything went so smooth. And Joe's help in finding our new home was amazing. The home we purchased is our forever home. We will definitely recommend Joe and his team to anyone looking to sell/buy in the future. Thank you again for everything you did for us!

Joe and the whole Joe Conlon Real Estate team were incredibly helpful from our first phone call to them. Their passion for the work they do and their collaborative approach make selling your home feel easy and (almost) relaxed. Their knowledge and advice every step of the way helped us a tremendous amount. Thank you to the whole team!

Buying our first home had a mix of various emotions. Loosing to houses due to bidding wars was heartbreaking but Stev helped & supported us along the way.

I was looking for my first home. You guys made it easy to go through the process and always being in contact. Krista was lovely to deal with and made sure that she answered any of my questions. The viewings were booked right away and when I wanted to pursue a house that was also just as quickly handled.

Recently, I had the pleasure of working with the Joe Conlon Real Estate Team by way of a referral. I couldn't have asked for a better experience. Buying and selling property can be stressful, but from the moment I first contacted Joe and his team until the day the sale officially closed and beyond, I can honestly say I felt like I was in good hands. If I needed to contact Joe, he always found a way to touch base with me in a timely manner. When I had questions, he and his associates were quick to find me the answers. Perhaps, most importantly, however, is that I feel joe and his team really listened to what I had to say, and made every effort to accommodate my needs. What could have been a challenging time turned out to be a great experience. My family and I wouldn't hesitate to recommend the Joe Conlon Real Estate Team!
Recent Articles
Bluehat Marketing Inc.
Stay Positive: Spring is Coming Low inventory is fairly common for this time of year. Each year we find ourselves anxious and frustrated with how little options there are. This year is even more [...]
Bluehat Marketing Inc.
Crawlspaces Many home owners like the idea of homes with crawlspaces and no basements. Many Buyers choose this option to avoid a basement flood. Crawl spaces can flood too! When your basement floods, you [...]
Bluehat Marketing Inc.
In a normal balanced real estate market, conditions are common place. A traditional offer would typically include conditions of financing and inspection for about a week. This allows the buyer to take their accepted [...]